Scam
General Information
Shipped Characters
Scarlet Anderson & Adam Benson
Length of Relationship
2007 - 2009
Status
Broken up
Rivals
Adison, Jarlet
Scam is the former relationship between Sc/arlet Anderson & Ad/am Benson.
When Scarlet came to HA, Adam was the first to greet her, even though it was because he feared she is attending.
When Adam and Ali were getting back together, Scarlet had walked by and smirked at him.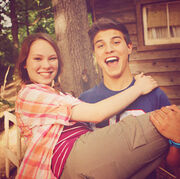 They had dated for 2 years.
lolwtf